Janmashtami Fashion: Dressing Up in Traditional Attire for the Festival
Juttis:
Juttis, with their ornate embroidery and curved toes, capture the essence of Indian craftsmanship. They offer comfort and style in equal measure, making them an excellent choice for Janmashtami. Whether you prefer subtle shades or vibrant hues, there's a pair of Juttis to complement your outfit.
Kolhapuris:
Kolhapuris, hailing from the city of Kolhapur in Maharashtra, are renowned for their simplicity and durability. These flat sandals with intricate leatherwork are a timeless choice. They pair effortlessly with sarees, dresses, and other traditional ensembles, making them a versatile addition to your Janmashtami wardrobe.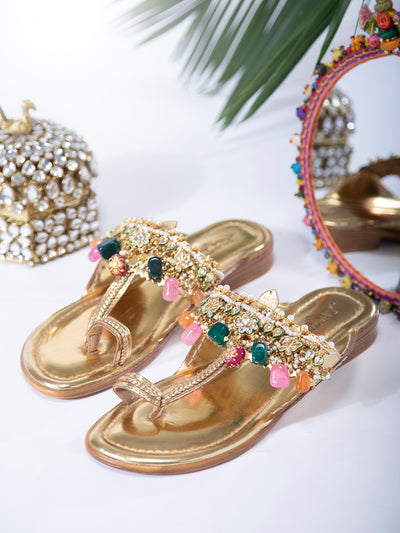 Apparel: Ethnic Festive Wear for Women
The core of Janmashtami fashion is a stunning array of ethnic wear that allows you to express your style while paying homage to tradition.
Accessories: Ethnic Jewelry and Bags
Accessories are the final brushstrokes on your Janmashtami canvas, adding depth and personality to your ensemble.
Embrace Tradition with Style: 5 Elements
Janmashtami is a time to celebrate not just a religious figure but a cultural icon. It's an occasion that brings families and communities together. Dressing up in traditional attire for women is not just a fashion statement; it's a way of honouring the traditions and customs that define this festival.
As you explore the myriad options of ethnic wear for women, remember that the essence of Janmashtami fashion lies not just in what you wear, but in the love, devotion, and joy with which you celebrate. So, whether you choose a resplendent lehenga choli, an elegant saree, or any other traditional attire, wear it with pride and let it be a reflection of your reverence for Lord Krishna and your love for Indian culture.